Testimonials
Hear about people who were inspired by our CEO and Founder, Peter Ferris.
Jamie Dornan
Through my Dad, we have recommended Peter Ferris to train, help and guide close friends in the Film, TV and Theatre Industry. Even after as little as a few lessons Peter Ferris has opened doors and helped them succeed in auditions in both the UK and America.


Jamie Dornan - star of Fifty Shades of Gray and The Fall
Matthew Stirling
Said by Matthew Stirling when he was in Austria filming as the stunt double for the lead villian in the seventh James Bond film, Spectre:

"If it wasn't for you I wouldn't be where I am now" (January 2015)
Star Wars Interview
Charlotte Chatton
Said by California Typerwriter producer and Titanic actress Charlotte Chatton in a letter wishing good luck to a Mercy College student who performed a scene from the Titanic (1997) in her LAMDA exam: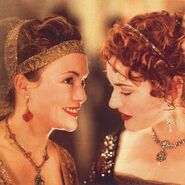 "Peter helped me to delve into some of my bravest acting explorations for which I will always be grateful (June 2017)

Wishing Belfast Student Good Luck in her LAMDA Exam
Sue McArdle
Known for BBC's Hetty Feather as Nurse Macclesfield

To Irene Bradshaw

You, Denis Noonan and Peter Ferris gave me the essential tools and spiritual intellect to navigate this industry and I am eternally grateful.


Image Source: Sainou Talent Agency London
Alastair Binnie Lubbock
Chosen Electoral Candidate for Minister at UK Parliament, Westminster, UK Elections June 2017.
Many thanks Peter, you helped open my mind by letting me embody a bunch of different people. And there's no doubt you help me every time I'm getting in front of a bunch of people and speaking confidently
I learned more in 2 days than I had in 3 years
Video Testimonials
Belfast Students' Testimonials
Screen Acting Masterclass Testimonials
We will go the extra mile to inspire our current students by connecting them with Peter Ferris' industry contacts and past students. Whether it is a simple phone call or a letter to wish the student good luck, Peter Ferris will make it happen.
Testimonials and Success Stories
Northern Ireland Screen Acting Masterclass 2016-2017 Success and Testimonials